PTV removed from proposed list of SOEs to be privatised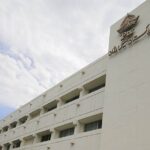 The Cabinet Com­mittee on State-Owned Enterprises (SOEs) has decided to remove Pakistan Television (PTV) from the list of entities that were to eg considered for privatisation.
According to a report by a local media outlet, the decision was taken at the request of the Ministry of Information and Broadcasting which apprised the meeting that PTV was undergoing massive restructuring to convert it into a profit-making entity, professionally efficient and technically sound to amplify the national narrative and formulate favourable public opinion.
The committee directed the ministers concerned to utilise the interim period effectively and work out options for restructuring SOEs, including the possibility of turning their officials into contract employees, where applicable, and update the committee periodically.
It may be noted here that major loss-making SOEs would undergo a forensic audit whereas the Auditor General of Pakistan's (AGP) had started collecting data in this regard.
Several private sector firms have also shown interest in conducting the forensic audit. Therefore, the committee decided that the task might be distributed among private firms and the AGP as per rules, keeping in view the large number of SOEs.
It is pertinent to mention here that the finance division had submitted draft SOE Bill 2020 to the law and justice division, which once cleared, would be presented before the Cabinet for approval, before being tabled in parliament.
The post PTV removed from proposed list of SOEs to be privatised appeared first on Profit by Pakistan Today.