Top 10 Most Corrupt Leaders in the World 2017
Corruption in the world is now increasing day by day because every man in the world is trying to do this but the question is here that which are people involved in such a big corruption and where they sent their money but this is not a big deal.
According to recent reports in corruption most of the big people of the country involved like politicians, ministers as well as other big authorities, but where they keep their money whether it is came from their own sources or corruption.
10: JAYALALITHAA, INDIA
Jayalalithaa is famous politician of Tamil Nadu in India as he is also Chief Minister of Tamil Nadu who is facing many cases of Corruption but according to reports that he is facing almost 46 cases of corruption and charges of corruption which are against him in this respect. As these cases includes various scams were the Rs. 70 million coal import scam, case of disproportionate assets and color TV case, Tansi land deal case, amongst many others. So according to reports A raid in her residence as well as business establishments reportedly led to the capture of some 28 kg of jewelry which has estimated worth of 51 crores, 91 wrist-watches, 750 pairs of footwear's, 41 air-conditioners, 10,500 sarees so he is now facing investigation is this respect therefore considered not only corrupt politician of India but also of World.
9: KIM JONG UN, NORTH KOREA
Kim Jong UN is head of state of North Korea as he is Son of Kim Jong il, he is also youngest head of state in the world's head of states as this country in his leadership making so many missiles as well as arms therefore many big pillars countries of the world asked to overcome production. Their country is also included in most corrupt countries of the world and according to recent reports of panama papers; there is name of head of state of North Korea. As according to reports that average salary of Korea is about 1500 dollars and president also called as alcoholic so he is living his life in great pleasure, considered as most corrupt as well as dangerous leader than that of all other but there is no explanation of corruption.
8: TEODORO OBIANG NGUEMA MBASOGO, GUINEA
Teodoro Obiang Nguema Mbasogo is most famous leader of Guinea which is now is most poorest countries of the world but this man is in most richest men of the world as compare to his country he has lot of money as according to reports this head of state has estimated wealth about 600 millions. As American President has estimated wealth about 11.8 millions as compare to America this country Guinea has poorest population and underdeveloped infrastructure, according to reports it is been told that in 2003 he announced to finish corruption and withdraw most healthy amount in his account that he is also been implicated in various human rights abuses, electoral fraud, nepotism.
7: PETRO POROSHENKO, UKRAINE
Petro Poroshenko which is now the president of Ukraine is also included in this list of most corrupt politicians after his name leaked in panama paper because according to Panama leaks he has lot of resources as well as business, money that he has hide in other countries but according to president he said that there is lot of corruption in their country and we have to take strong steps over this to solve as well as clean from country but this nothing means that he is involved in this corruption. So critics of this country also asked that there is so much easy to take lot of money from this country and their new Government worked as therefore president has lot of resources and land in other countries so he is considered as corrupt politician.
6: DAVID CAMERON, UNITED KINGDOM
David Cameron is prime minister of United Kingdom as he is leader of conservative party, Member of Parliament as he is asked some days earlier that he wants to see his country free from corruption that also his country is least corrupt country but according to panama leaks paper he is also included in offshore resources but David Cameron denied that he is not included in this because he has only one house in London which and nothing after this that he also declared that his father was included in offshore money therefore by the pressure of media and citizens he has given all details of his properties as well as tax paid but it was asked by public of resign of prime minister Cameron after this leak.
5: KHALIFA BIN ZAYED AL NAHYAN, UAE
Khalifa Bin Zayed Al Nahyan is not only the president of the United Arab Emirates as well Emir of Abu Dhabi as his father also holds this position and he was able to come on this seat after the death of his father as he has lot of money but most of his is in other countries because he has more than 30 companies with his wife, daughter and name but most companies are in out of country as he has made main of these after his came to this post instead of all these he has also purchased many beautiful properties in many expensive places of world which have worth about 1.7 billion dollars but he has denied to explain about his properties.
4: SIGMUNDUR DAVÍÐ GUNNLAUGSSON, ICELAND
Sigmundur Davíð Gunnlaugsson is now EX Prime Minister Iceland which is resigned from his post after it proven of corruption on him because a week earlier it was reported by Panama paper leaks and name of prime minister was in those politicians who has lot of business as well as property outside country. He was to face many crisis of money in campaign in 2008 but from where his money comes? As he stated that his wife is daughter of a business tycoon therefore she sold her company in 2013 but after the resign of prime minister it is been proved that that Prime Minister has some resources and offshore companies.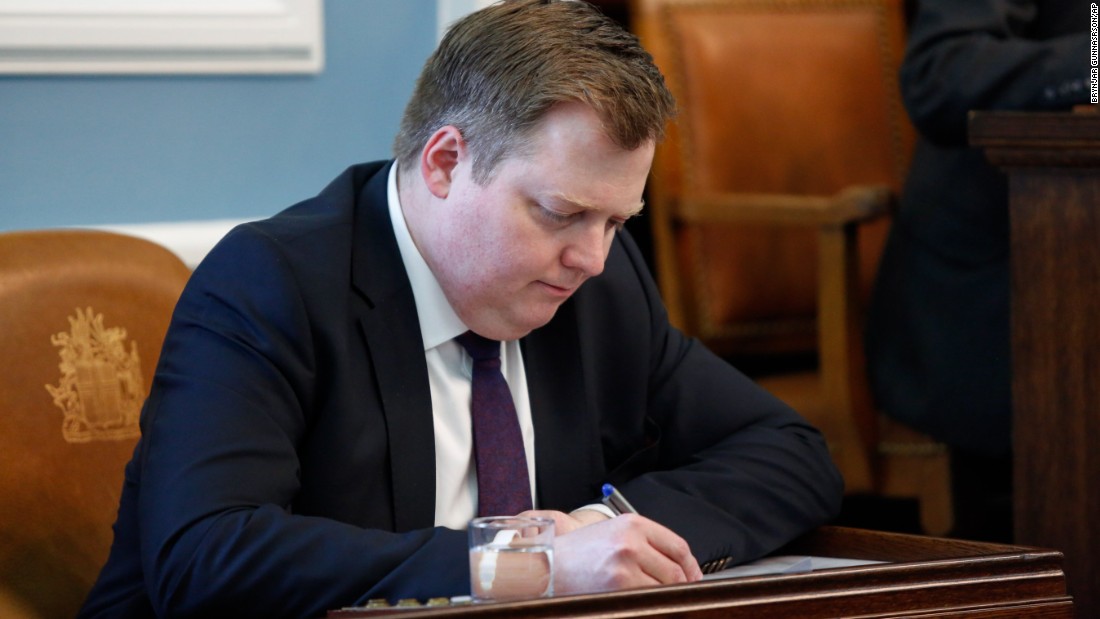 3: KING SALMAN BIN ABDULAZIZ, SAUDI ARABIA
Salman is now president king of Saudi Arabia, they are kings from their inheritance as his brother was also king before him therefore he became king of this country after the death of his brother Shah Abdul Aziz. As according to reports he has lot of money as well as companies outside the country therefore his name is also included in Panama leaks that offshore money in other countries as he has more about two companies outside the country in which he has % of shares and also beautiful buildings as well. In companies he has shares in one company 26 million dollars and 8 million dollars in other company that also has a beautiful house in London.
2: NAWAZ SHARIF, PAKISTAN
Mian Muhammad Nawaz Sharif is now Prime Minister of Pakistan as his family is the fourth richest family all over Pakistan as he has lot of mills as well as companies in country including Rice mills, flour mills, sugar mills and many other mills but talked about tax paid then resources of this family not even spoke right because they do not pay as much tax as they have right to pay for their country, as he is also involved currently in panama papers leaks of off Shore money as he has lots of projects, lands and business which he has hidden from Government instead of these he is also involved in many mega projects from which they extract lot of money which include Jungla Bus means Metro Bus so he has lot of money as well as business out of country too therefore considered as corrupt politician of world too.
1: VLADIMIR PUTIN, RUSSIA
Vladimir Putin is head of state of that country which is also most powerful country of the world as well as largest arms producing country too but couple of weeks ago, according to panama papers he is also considered as corrupt politician, as he is most famous in his country also in world therefore he is main attack of the world news agencies so according to news he is most richest leader which has lot of money as well as business in other countries and he has given no explanation of all his money as well as property but he is denied to do that and asked that it is absolutely wrong but he has more than 2 billion assets in other countries which he has made during his era.